Discover more from Andrei Spînu 🇲🇩🇪🇺
Here you can find some bits and pieces about my work at the Ministry of Infrastructure and Regional Development (road infrastructure, transport, construction, regional development, water and sanitation). Stay tuned.
Weekly Updates #7 - Moldova Reconstruction Map
October 16th - October 22nd
Well, we met again after a pretty intense week. Between visits to our cities, we held one of the most important international meetings: Moldova Support Platform. And this is the starting point of last week's most important events.
Presented.
The Ministry's Plan of Reconstruction of Moldova Infrastructure was presented in front of a broad delegation of 50 countries committed to supporting our European Journey. If you want to know more about how Moldova will look in the following years, here is an interactive map available in English and Romanian: https://msp.gov.md
The Urbanism and Construction Code. 
During a press conference, I presented - a new document that puts together the laws and guidelines regarding the construction and urbanism sector coherently and transparently. We want to assure citizens of sustainable buildings and well-settled villages and cities. The project will be presented in Parliament on Thursday, so that you can stay tuned. 
Visited. 
The village of Pîrîta, Dubăsari district. The project to build a sports field for children financed by the European Village program was completed at the village kindergarten.
Village of Stolniceni,  Hincesti. I talked to people about the village's water supply and sewerage project. The mayor, also the candidate for mayor, Sergiu Sîrbu, has already managed to complete a large part of the project. We will continue to support villages through the European Village program to bring water to every home.
Last week, I also visited the villages of Cotiujenii Mici, Drăgănești, Rădoaia and Sîngereii Noi. I met wonderful people everywhere, and we talked about our projects and how important it is to integrate our country into the EU.
On Sunday, I spent the day in the Criuleni district. I talked to people from the village of Mașcauți, Boșcana, or. Criuleni, Izbiște village and Ișnovăț village. I was happy to see that the regional road from Mașcauți to Brănești is being built. Criuleni and Ișnovăț, water supply systems, have been made through the European Village program.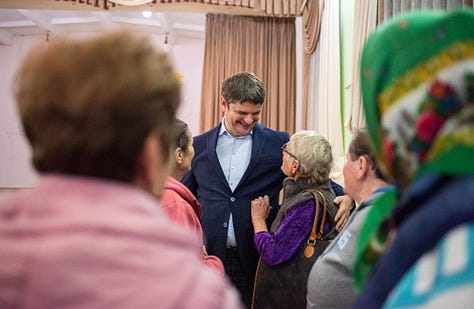 Politics. The Censure Motion.
The opposition asked the Government to report on our activities. The Socialists were somehow annoyed by what this Government was doing. Why? Because it is doing well. During my speech, I had the opportunity to report on all the activities to develop our country and rebuild Moldova's infrastructure from North to South and from East to West. The motion failed!
The Picture of the Week
Thanks for reading Andrei Spînu 🇲🇩🇪🇺! Subscribe for free to receive new posts and support my work.