Discover more from Andrei Spînu 🇲🇩🇪🇺
Here you can find some bits and pieces about my work at the Ministry of Infrastructure and Regional Development (road infrastructure, transport, construction, regional development, water and sanitation). Stay tuned.
Weekly updates #5
September 25th - October 1st 2023
Greetings from Paris! I am here with my colleagues to discuss investments in the aviation sector (I will keep you updated).
Announced.
Last week, we announced the development plan for the state port of Giurgiulești. We decided to expand the public terminal at Giurgiulesti port by attracting a competitively selected strategic investor.  It is an objective of national importance that will create jobs, help farmers export their products more efficiently, and become an engine for the country's economic development. As promised, step by step, we will implement the projects of the Moldova 5+ Infrastructure Reconstruction Plan.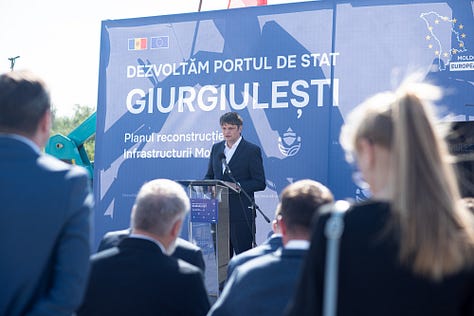 Attended.
The e-DNC portal (regulatory documents in construction) was launched.  A platform where construction professionals, local authorities, and all citizens can access up-to-date information quickly, for free. It is a crucial step towards the digitization of the construction sector. Thanks to our partner from USAID for supporting this.
Approved.
The owners of cars with foreign number plates who have been on the territory of the Republic of Moldova for more than 180 days will present the vignette payment only for the last 90 days. For the diaspora, the application period for tax facilities on return to the country is extended until October 2025.
Politics.
The first 532 candidates for mayor from the Action and Solidarity Party have submitted their documents. We are many, united, and we will integrate Moldova into the European Union.
Picture of the week
Thanks for reading, Andrei Spînu! Subscribe for free to receive new posts and support my work.